Episode 43, September 12, 2011 – James Krouse, Director of Programming for Ingenuity Cleveland is live in studio to talk about IngenuityFest taking place this weekend, September 16-18 on the Detroit-Superior Bridge.
More Twitter gems from Jeff, like this one: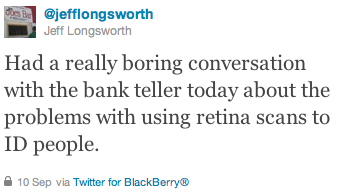 Also, it's Downtown Cleveland Patio Week September 12-19. $30 dinners and $15 lunches at numerous downtown Cleveland restaurants.
Anger over the cancelation of Sparx City Hop, Improv at its new home, clambakes at Grumpy's (PDF) and it's haunted house season!
And this guy is not happy with the Cleveland Browns: