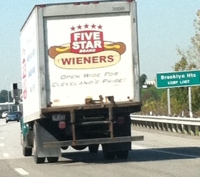 Episode 45, October 10, 2011 – Jeff and Jeremy drink some Dogfish Head Punkin Ales and talk about the new Crop restaurant, the Allen Theater renovations, Anatomy, Fat Head Brewery, The Treehouse and Alanis Morissette and Dave Coulier.
Also, Cleveland Beer Week starts Friday! The Crown Plaza is becoming a Westin, The Pit is prohibiting throwing footballs and beanbags, a 60 bed hostel is coming to Ohio City and the art exhibit for a Cleveland bike station is abandoned for fear someone may try and climb it.
Plus, a Music Penetration of E.T. by Katy Perry! LISTEN NOW or Imma probe you!