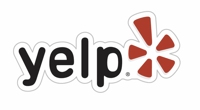 Episode 48, November 7, 2011 – Cara Lageson from Yelp is live in studio talking to Jeff and Jeremy about Cleveland's first Burstday Party.
Plus, Jeremy visits Ginko, Happy Dog and goes to see Tom Segura at the Improv.
And, The Plain Dealer has a great article about how Sam McNulty is helping to reinvent Ohio City, the Sparx City Hop has been rescheduled for this Saturday and Jeff went to Las Vegas. And that's all he'll say.
Other Cleveland weekend events: Cleveland State Basketball kicks off this Sunday at 2pm on ESPNU and the monthly Tremont Art Walk is this Friday.
Get your Yelp on! LISTEN NOW!