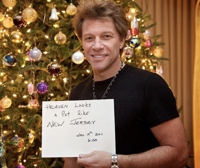 Episode 52, December 19, 2011 – It's the Christmas episode! Jeff and Jeremy talk about their upcoming Christmas plans as well as the neighborhood party at The Treehouse, Jeff's Christmas party at Lincoln Park Pub, aggressive begging at City Tap, Jeff rubbing elbows with Cleveland Mayor Frank Jackson and Guinness pouring contests.
Plus, Jeremy hates Christmas shopping. And Jeff just buys gift cards.
In the news:
If you're feeling lonely this Christmas season, check out Missed Connections.
And Bon Jovi is alive.
Stop givin' love a bad name. LISTEN NOW!